Virtual Jogs and Bike Rides
We also offer faster-paced scenery DVDs for use either while jogging on a treadmill or cycling on stationary indoor exercise bikes. These Virtual Scenery DVDs will make the time spent on your stationary bike, upright bike, recumbant bike, spinner, instride cycle, mini-cycle, Airdyne, or Endurocycle go by quickly. We currently have seven different Virtual Jogs and Bike Ride Scenery DVDs filmed in Ireland, Scotland, Canada and the USA - click on our DVD Catalog link for an up-to-date list of all of our Jog and Bike Scenery DVDs. We'll continue filming new Virtual Bike Rides in scenic areas of the USA and Europe over the coming months and years so that you can continue to enjoy the time spent exercising!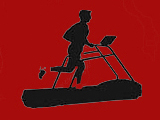 FITNESS DVDs for ACTIVE SENIORS!
Improve your fitness and stay healthy with our DVDs for active seniors! Stay fit while traveling the world with our DVDs which feature locations in the United Kingdom, Italy, Greece, and the United States, as well as in other beautiful places around the world.
Position your treadmill or other exercise device so that you may experience a healthy, low-impact fitness workout while you travel via our DVDs to places you may have visited and enjoyed in your past travels. Our DVDs can also offer you an opportunity to travel to locations which you have not previously been able to visit. Whether revisiting a previously-enjoyed location or discovering the beauty of a previously-unvisited site, you will find our DVDs to be a very enjoyable accompaniment to your exercise efforts.
Seniors are encouraged to be active seniors in order to improve and maintain their mobility, balance, fitness, and mental alertness. Exercise is an important component of remaining healthy and fit. Low impact exercise, such as a walk on a treadmill may provide, can be greatly enhanced through the simultaneous viewing of one of our DVDs. Travel as you exercise - visit beautiful locations from the comfort of your home or other exercise area!
When the weather in your area is not conducive to outside activities, utilize your indoor low-impact exercise device while viewing our scenic DVDs and visiting the locations available through these DVDs. You will be able to continue your fitness efforts even when the weather outside is unfit for excursions - when the weather is too cold in Winter months or too hot in Summer months to remain comfortably outside for any length of time. You will be able to continue low-impact exercise throughout all the year, and viewing our scenic DVDs as you exercise will transport you to more-congenial locations when your home location is not at its best. Our scenic DVDs can help you maintain the motivation to continue exercising on a regular basis when your local weather makes it difficult or impossible to leave your home in order to exercise. Even when your local weather is unsuitable for exercising, you can still enjoy viewing our DVDs as you exercise, maintaining your health and fitness so that you may better participate in events in your own locality.
Viewing our travel DVDs as you exercise may provide you with destinations you may wish to visit in future travels; your exercise will help maintain the mobility and physical fitness which will enable you to participate more fully in the activities involved in travel.
Of course, always consult your physician before starting a new exercise regimen.
" Received your dvds earlier this week. What triumphs they are! I just love them, thank you, and the little "shorts" with the string quartet - very beautiful. I think I will have to send your "Morning in Venice" to my sister in Adelaide - she had her 50th birthday in Italy just last year. She loved Venice, and we hope to go there and UK in 2012. Thank you again for the dvds, they are truly "therapeutic" for me at the moment, and very restful as well. Went to the hospital today to have my 5th of 6 chemo treatments, however they sent me home because my white cell count is too low at the moment - need to wait till next week - frustrating. Came home grumpy, & put your dvds on - better now! Haha! Take care, Kind regards, Kathleen "
" Your product has made it much easier for me to get on the treadmill, as my Cardiologist has suggested to increase my workouts from 3 times per week to 6 or 7 times. Before finding your product, I had used regular travel DVDs during my workouts, but frankly, they did not inspire motion or a walking cadence as your virtual walk DVD does. I now enjoy the workout, rather than merely endure it. I'll undoubtedly add more in the near future, including the virtual bike rides for both my treadmill and my stationary recumbant. Great product! Allen (age 63) "